Warranty Period
Finished Products
Tortuga Audio"s (TA) warranty runs for five (5) years from the original date of purchase for finished products.
Components, Kits & Upgrades
Tortuga Audio"s (TA) warranty runs for one (1) year from the date of purchase (the "Warranty Period'") for individual components, kits, and product upgrades.
Warranty Provisions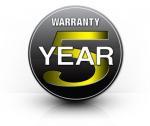 TA warrants to the end-user customer that the TA product will be free from defects in material and workmanship and will operate as outlined in the product documentation.
TA's warranty covers only those defects that arise as a result of normal use of the product.
TA's warranty does NOT cover problems resulting from: (i) misuse; (ii) modification; or (iii) operation outside the product's specifications.
Customer pays is responsible for shipping a defective product back to TA and bears the cost of that shipping.
TA bears the cost of shipping the product back TA back to the customer.
At its option, TA will either repair or replace a defective product once it is received from the customer.
Any replacement product may be either new or like-new, provided that it has functionality at least equal to that of the product being replaced.
TA Warranty is transferable should the customer decide to sell a finished TA product to a third party.
Limitations of Warranty & Liability
To the extent allowed by local law, the above items are the full extent of TA's warranty obligations and are the customer's sole and exclusive remedies. Absent a written and mutually executed OEM supply agreement, any TA component purchased or used by a buyer, or affiliate or via resale to a third party, for the intent and/or actual production of any subsequent non-Tortuga Audio product will not be covered by either the TA 30 Day Audition Policy or the TA 5 Year Warranty policy. Revised as of: 3.26.18